EMERGENCY VETERINARIAN AND URGENT PET CARE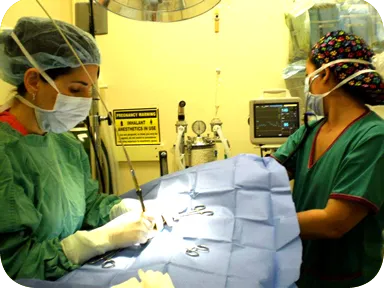 Understandably, everybody wants to receive the highest level of treatment for their animals. After all, they are members of the family. At Boca Village Animal Hospital we offer a number of different services which can be booked on short notice to assist with the health of your pet. However, we know that in some cases waiting a number of days to see a veterinarian isn't going to be enough. That is why we also offer Emergency and Urgent Care Service.
Emergency Animal Clinic Boca RatonIf your pet is suffering and needs the attention of one of our Veterinarians immediately then you will be able to bring them in during office hours. We will see the animal as soon as possible. There are a number of different illnesses that can warrant emergency care from our vets, which includes broken bones, dehydration or constant vomiting.

You can bring your pet in at any time during office hours but it is best to call in advance. This allows us to adjust our appointments and clear an exam room to see your pet as soon as possible. It also allows you to talk to our trained staff. In some cases, people believe they have an emergency when really it is something that can be dealt with at home, or at least wait until the next available appointment. However, in the case of emergency our staff will be able to offer advice on what you can do to assist your pet before arriving at the office.
When your pet arrives you can be assured that it will be in the safest possible hands. Like with all of our treatments we will ensure that your pet is made as comfortable as possible during examination. In some cases, your animal may need to be kept in overnight for further observation.
Hours:
Monday - Friday 8:00 - 6:00
Saturday 8:30 - 3:00
Sunday Closed
(561) 391-2266