Veterinary Laser Surgery in Boca Raton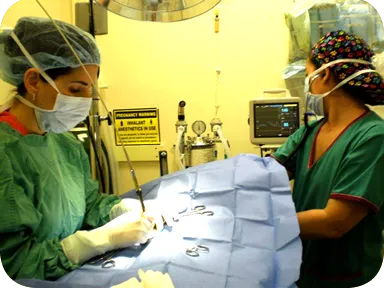 We at Boca Village Animal Hospital are pleased to offer laser surgery. This relatively new technique in animal surgical procedures not only ensures your pet's safety but also takes care of the well being of the animal. There are a number of reasons as to why you would want to choose laser surgery when presented with it as a surgical choice.
Pet Surgery Boca RatonWith Laser Surgery there is less pain for the pet. This is because the energy from the laser seals off the nerve endings as it penetrates through the tissue. As a result, your pet will experience less pain and be more comfortable post operatively.
In addition to this, during Laser Surgery there is much less bleeding. Again, the reason for this is that the laser seals the smaller blood vessels. This means that a vet will be able to perform surgery with a greater amount of precision. Less blood loss is also going to be much safer for your pet while they are being operated on. In many cases, the extra precision and the lack of bleeding will reduce the amount of time that your pet will be under anesthesia. This is much safer for your pet, particularly older ones who cannot cope being under the effects for too long.
At the conclusion of the surgery you will notice that there is less swelling. This is because the laser energy does not crush, tear or bruise the tissue. It is just a beam of light. As a result, your pet will be in less pain and they will find that it is much easier to get back to their daily routine of just having fun!
Laser Surgery can be used in a number of different surgical procedures, the most common of these of course being Spays and Neuters. In addition to this, laser surgery can also be used to treat a number of other ailments in the quickest and most efficient way possible. This includes cysts, tumors and warts.
We offer some of the most advanced Pet surgical techniques and technology in Boca Raton at our veterian office in Boca Raton.. This means that your pets will be in the safest possible hands. Before any procedure we carry out, all pets will be carefully screened to ensure they are strong enough for the surgery, as well as to identify the amount of anesthetic that your pet is going to need. During the surgery we will use the most advanced procedures, as well as a number of machines to ensure your pet remains safe. We also offer state of the art after surgery care to help ease your pet back into their daily routine.