PET MEDICATIONS AND SUPPLEMENTS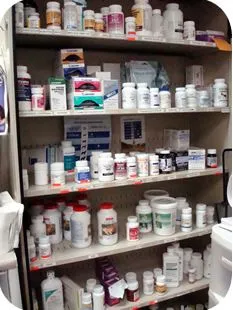 At Boca Village Animal Hospital we know just how important it is your animal receives the best quality medications and pet products. This is why we take great pride in carrying out continuous research to ensure that your animals only receive the best.
Pet Medication Pet Supplements Boca RatonWe know that your pet only deserves the best. For that reason we only keep the best quality veterinary medications available in the animal healthcare field. In addition to this, we keep a number of 'private label' products including shampoos, dietary supplements, and products for itchy skin as well as ear cleansers. When you use one of our private label products, you can be sure that everything has undergone extreme testing to ensure that we are only providing you with the best quality product. This is of course going to benefit your pet considerably.
We at Boca Village Animal Hospital understand that each animal is unique in what they need to stay healthy. This is why we have the capability to specially formulate vitamins to help cater to the individual needs of the pet. Couple this with our Nutritional Counselling and your pet is going to be incredibly healthy, sometimes adding years onto their life.
In addition to the supplements we supply, we have a number of medications designed to help relieve symptoms for an animal in pain, or to totally eradicate disease or illness. These will be supplied by the veterinarian after diagnosis to ensure that the correct medication has been prescribed.
If your pet is suffering from allergies then we can work with you to devise a treatment plan to combat these allergies which will often come in the form of shots and medicine for you to take home with you. In addition to this, we can supply shampoo which will help combat any flea outbreak on your pet's skin which is going to make them feel uncomfortable.
Before we can give your pets any medications, it is important that they undergo checks to ensure that the medicine they are being prescribed is correct for them. This applies to supplements as well. After all, the best way to make an animal healthy is by prescribing exactly what they need.
Why not get in touch with us today and find out more about the products that are kept at the Boca Village Animal Hospital? We can assure you that some of the best quality animal products available on the market can be found at our offices. Your pet deserves the best right?